There are three World Heritage sites in California. Two are National Parks, the third is Frank Lloyd Wright's Hollyhock House in East Hollywood. Aline Barnsdall, the visionary owner of Hollyhock House, was an oil heiress and a producer of experimental theater. Barnsdall loved drama. She found it with Frank Lloyd Wright and a building project that ended in court.
Story and photography by William Hall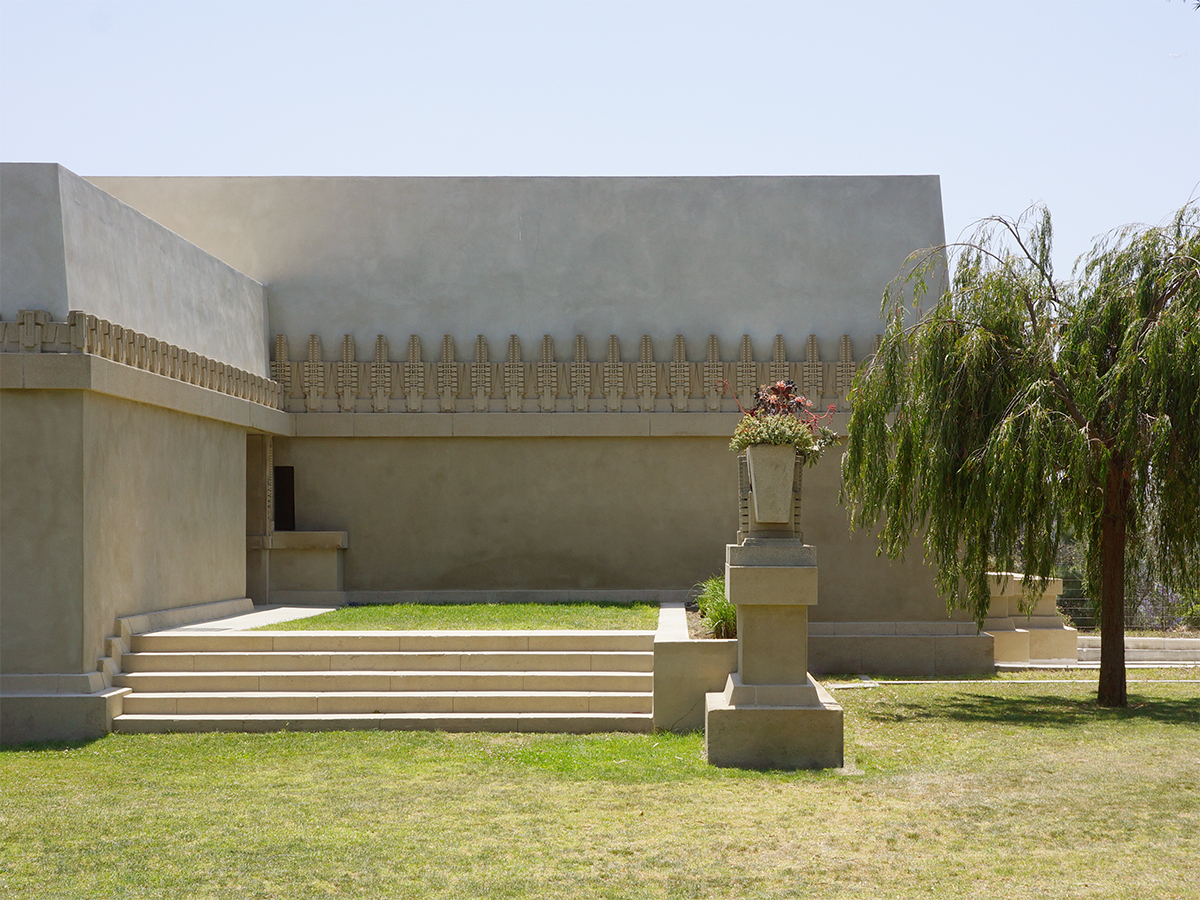 Wright himself was well acquainted with drama. Even by 1916 when he began work on Hollyhock — his first Los Angeles home — a fictional version of his life story might be considered far-fetched. He was abandoned by his father aged 14, who divorced his mother on the grounds that she had been physically violent towards him. This foreshadowed Wright's abandonment of his own wife and six children to move in with a client's wife, leading to his ostracism from Chicago society. Then in 1914 Wright was one victim of a grisly event which resulted in his house being burned down, and saw seven people including his lover and her children murdered. He escaped to work on projects in Japan and Los Angeles.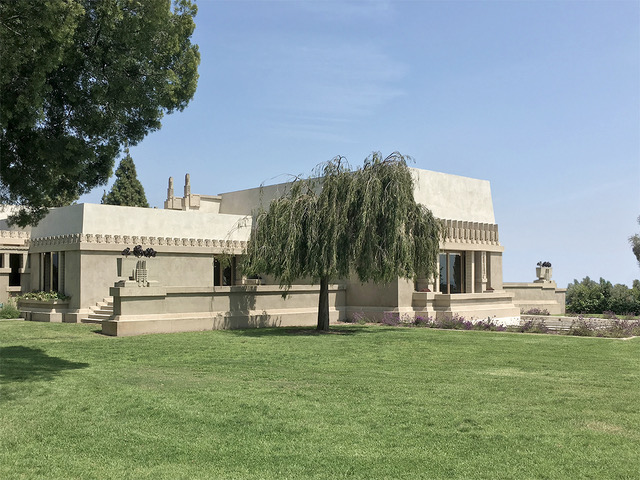 Barnsdall had also received disapproval – for her decision to have a child out of wedlock – and had also escaped to Los Angeles from Chicago, where she had previously met Wright. Los Angeles has long been a place to make a new start. Migrants that were rootless and destitute or ambitious and daring. All found hope in the potential of the city. Between 1900 and 1924 the population increased by a factor of ten, to a million citizens. It was then the fastest growing city in the US.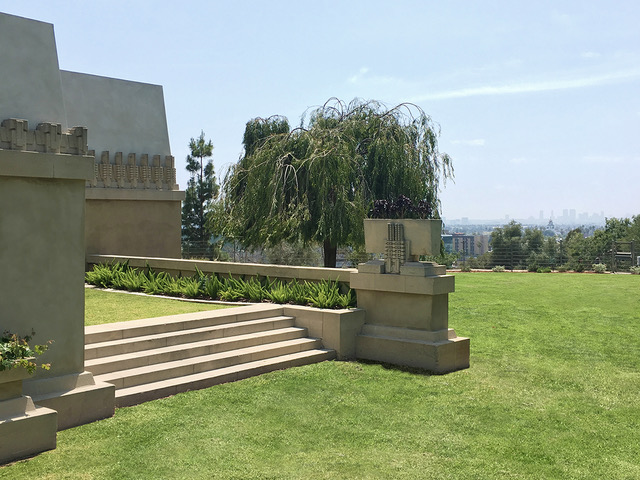 Barnsdall's project called for a series of buildings forming an elaborate arts center on a full city block. They included a theater, shops, and accommodation for actors and directors as well as the sprawling home for Barnsdall and her daughter. Ultimately only Hollyhock and two other houses, called Residence A and B, were completed (B was demolished in 1954). Wright was primarily hired to design the theater. But by 1921 Barnsdall had had enough. The cost of Hollyhock had quadrupled beyond the budget, the roof was leaking, and her front door was immovable: 'I need three men and two boys to help me get in and out of my own house!' she despaired. She ended the project and entered into litigation over costs. A weary but self assured Wright concluded later, in a letter to his client: 'Well – the building stands … it is yours for what it has cost you. It is mine for what it has cost me. And it is for all mankind'. True to that spirit the Frank Lloyd Wright Foundation has made a 'virtual tour' available during lockdown.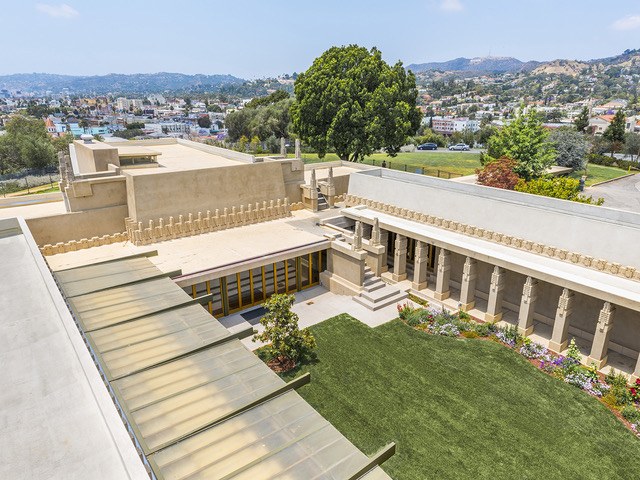 Rudolph Schindler joined Wright's office in Chicago in 1918 but was summoned to work on Hollyhock in 1920 and stayed in Los Angeles for the rest of his life. He took on the project when Wright was banished, but Hollyhock never became a permanent home. Less than two years after Wright was fired in 1921, Barnsdall offered the house and site to the City. It is unquestionably a remarkable house, but beyond the rather damning indictment that Barnsdall moved out, was it successful?
Well – the building stands … it is yours for what it has cost you. It is mine for what it has cost me. And it is for all mankind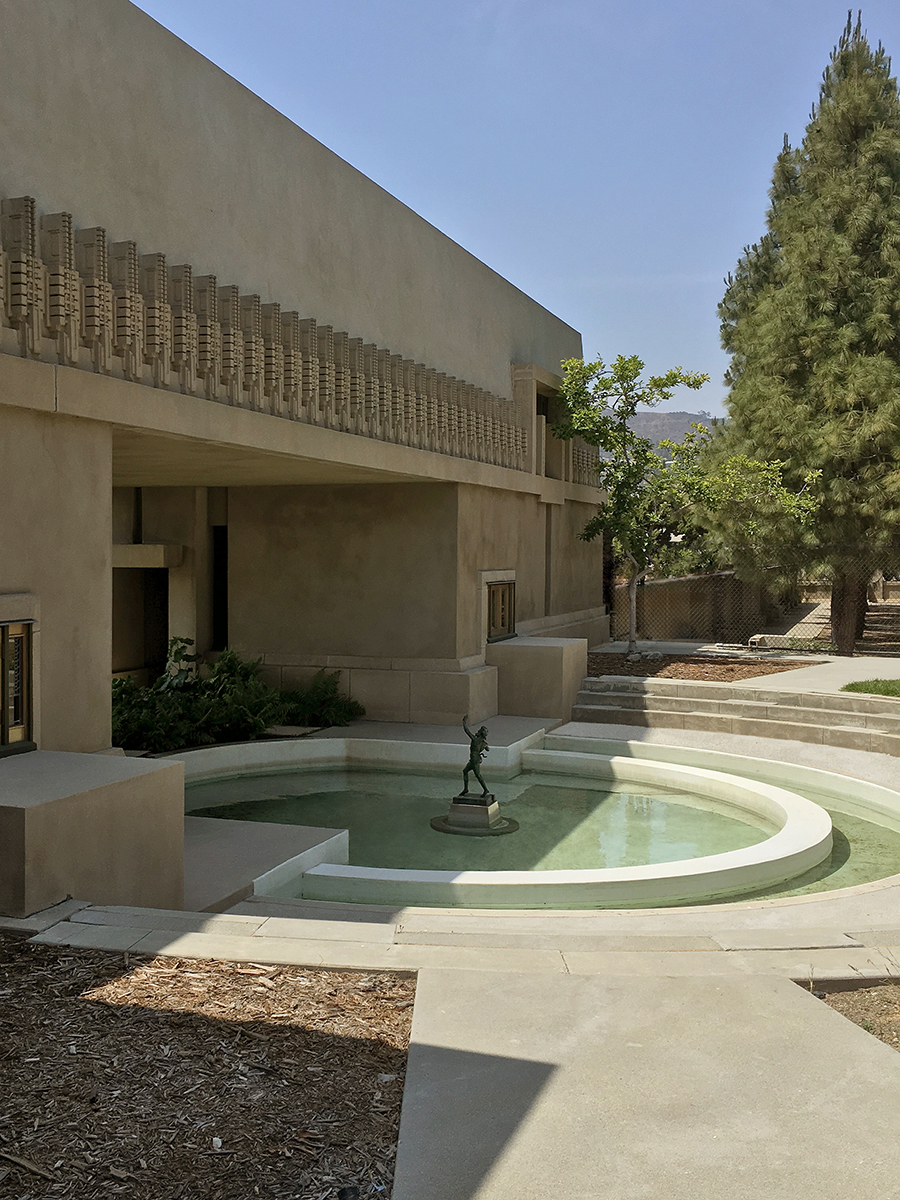 Had it ever been completed to Wright's design, Barnsdall might have woken up with the sun flooding into her east facing sleeping porch, perhaps taking coffee on her private balcony before descending to breakfast. Here the 'open plan' – pioneered by Wright in his Prairie Houses – would allow for a flowing promenade past the beautifully planted courtyard and principle rooms, and into the dining room. Wright deliberately kept low ceilings in his dining rooms. Combined with high backed chairs and a low hanging lamp this made for an intimate table experience – though for modern visitors this might feel less intimate and more confined. This space feels dark and enclosed compared to today's expectations – and would have done even to Mid-Century architects, who prized daylight.
Despite the difference in the outward appearance of Hollyhock House, Wright employed many of the planning tropes he'd perfected in Oak Park and elsewhere in Chicago. For example his famous 'compression and release' technique is in full effect in the enclosed, long and low entrance pergola, which leads to a living room of comparatively generous proportions.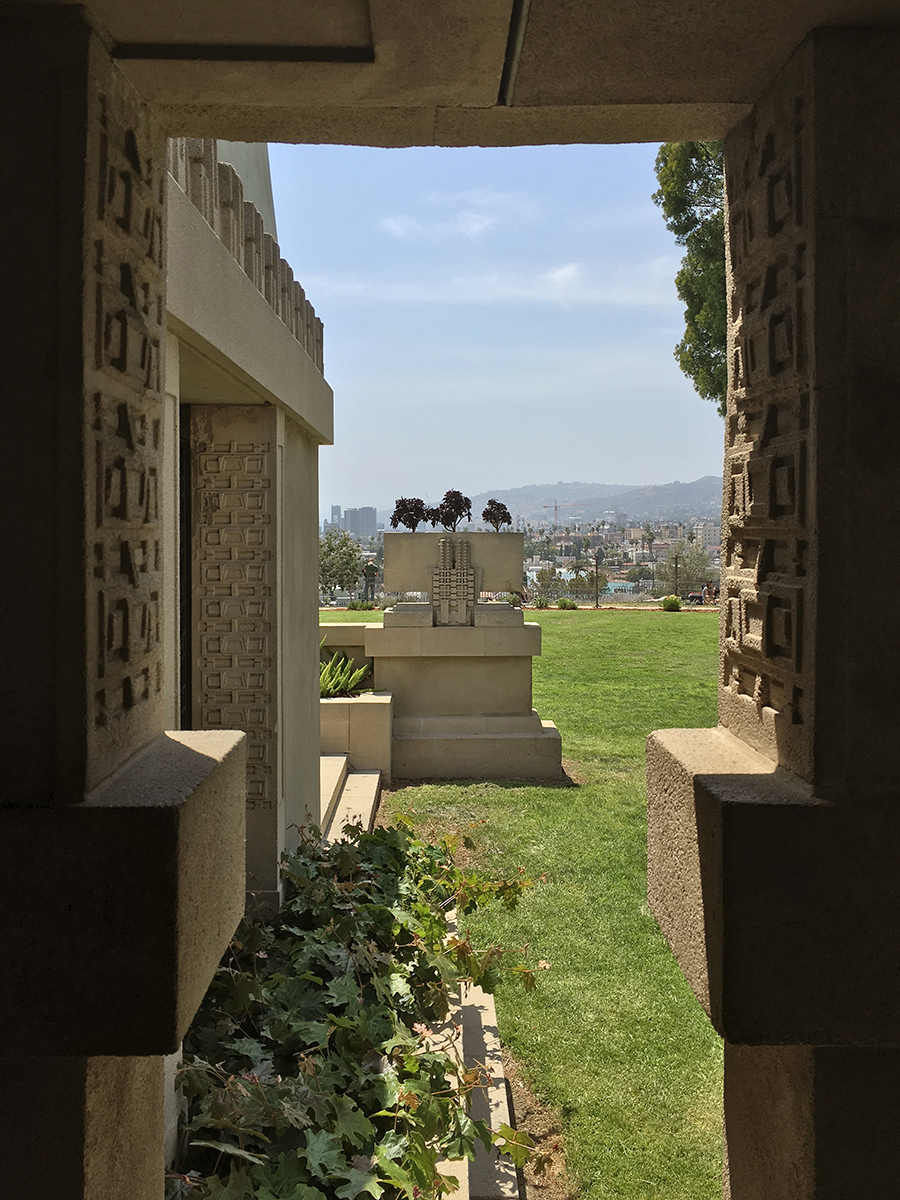 It's difficult to believe the music room worked well for its purpose. Hard walls combined with a low ceiling would be acoustically poor and the room is on an axis with busy areas of the house, meaning noise would seep out and in. Other spaces are stronger and have dated better. The south-facing study though simple is delightfully proportioned and detailed. But the living room is really special. A good example of Wright's gesamtkunstwerk (or total design) approach, here he has designed elaborate bespoke furniture, a frieze above the fireplace, handmade carpets, stained-glass windows with a hollyhock abstraction, and a pool of water around the hearth. It is elaborately decorative yet carefully composed and balanced so as not to be overwhelming. It makes for a subtly rich and satisfying combination of colors, textures and forms.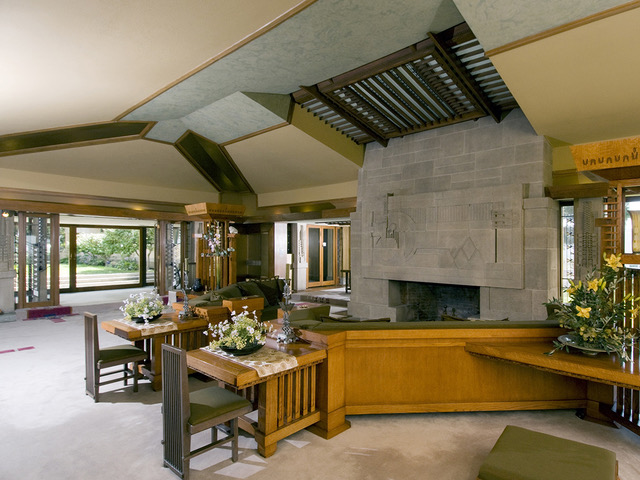 It is elaborately decorative yet carefully composed and balanced so as not to be overwhelming.
In Chicago Wright had been a pioneer of the 'Prairie School', which sought a uniquely American style of housing influenced by the shallow plains of the Midwest. Moving to California, his search for regional stylistic authenticity continued – albeit influenced by the geographically distant ruins of Mesoamerica. Wright had seen reconstructions of Mayan architecture at the Chicago World's Fair thirty years earlier while working for Louis Sullivan. Hollyhock was influenced by a variety of pre-Columbian architectural antecedents, most notably the Palace of Palenque with its mansard style sloped sides. Rather than stone, the hollyhock inspired finials are made from coarse cast concrete, and the house is of clay blocks with a stucco coating.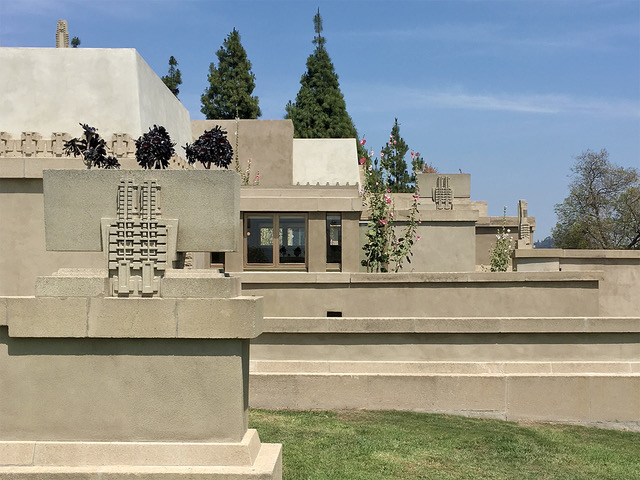 Hollyhock doesn't have the presence of Ennis House, or the rootedness of Wright's other Los Angeles concrete block houses – Millard, Storer, or Freeman – which feel situated and characterful. Hollyhock always felt comparatively stately, museological even. Nonetheless, the whole emanates a powerful but gentle and idiosyncratic grandeur. Perhaps on account of never having been lived in, it now feels like a stage set. All things considered perhaps that is entirely appropriate both to Los Angeles and to Barnsdall's original ambition.
William Hall is the author of Stone (Phaidon)