Jack Byron interviews Corinne Mathern, an interior designer with a background in fashion and furniture design. They discuss the constraints of traditional minimalism and the process of creating a dynamic, livable space with thoughtfully chosen artifacts and materials.
Interview by Jack Byron and Stephanie Manaster
Photography by Nicole Franzen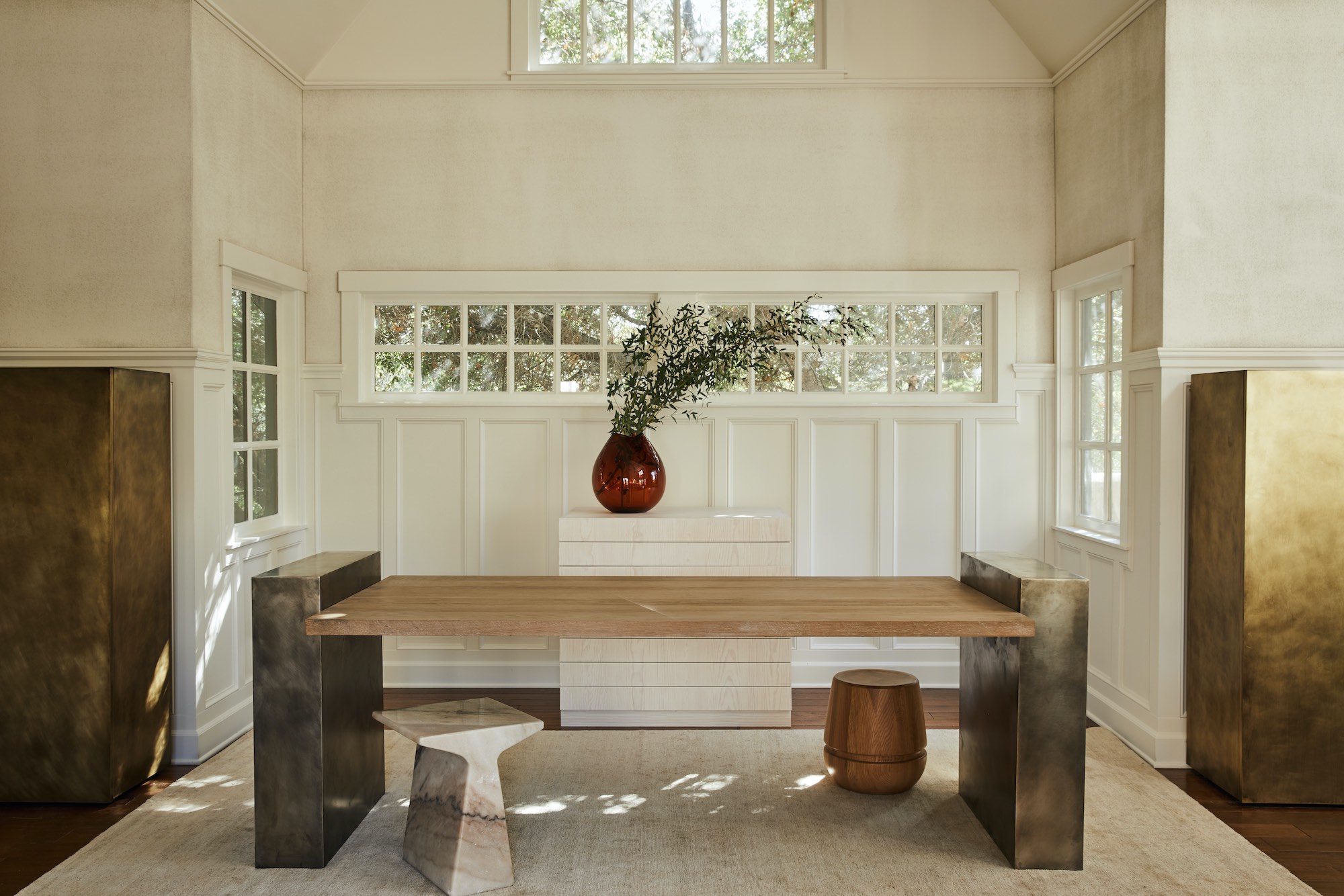 Jack:
How did you come to interior design? What was that process like?
Corinne:
When I was in college, I studied furniture design for a while. I loved designing and building furniture, but the pace of it was too slow for me. I ended up pursuing fashion design because the faster pace appealed to me. After school and a couple of years apprenticing for designers, I built a business and had a fashion design company for 12 years. We designed everything from shoes, accessories, to a full line of women's wear. Along with around 75 small boutiques, we sold to Barney's, Saks and Harrods in London among other large stores. That was my education in how to run a business, really. After working in fashion for so long, I realized that I didn't want to work in that repetitive cycle and pace of design...season, after season, after season.
What I gravitated towards as I got older was taking time, building something, thinking through it. So, I went back to furniture design and interior design, and started to pursue that slowly. I bought a beautiful mid century tree house up in the hills of Los Feliz, and then I started to slowly dabble in designing and renovating friends' kitchens or bathrooms or designing custom furniture for them, and that was about 10 years ago.
After a while, I realized I wanted to pursue interior design as a legitimate career and I knew I didn't want to just be a decorator that fluffed pillows and placed draperies-not that there is anything wrong with that. But I like seeing a project through from concept to completion-from construction to installation. Three years ago, I properly launched my business under my name. Now I focus on full house renovations, homes with some sort of architectural integrity, whether it's a 1920s Spanish home or 1950s mid-century home; something with the bones that attract the client to the home because it has a soul to it, but also can kind of lead the design process a little bit. I really look to my clients and the architecture to lead me into whatever the home needs to become.
I look at the whole process of interior design as very intimate. It's getting to know my clients and their preferences, down to how specific colors make them feel, their favorite artists, what materials speak to them, where they travel to how often they use their current dining room table.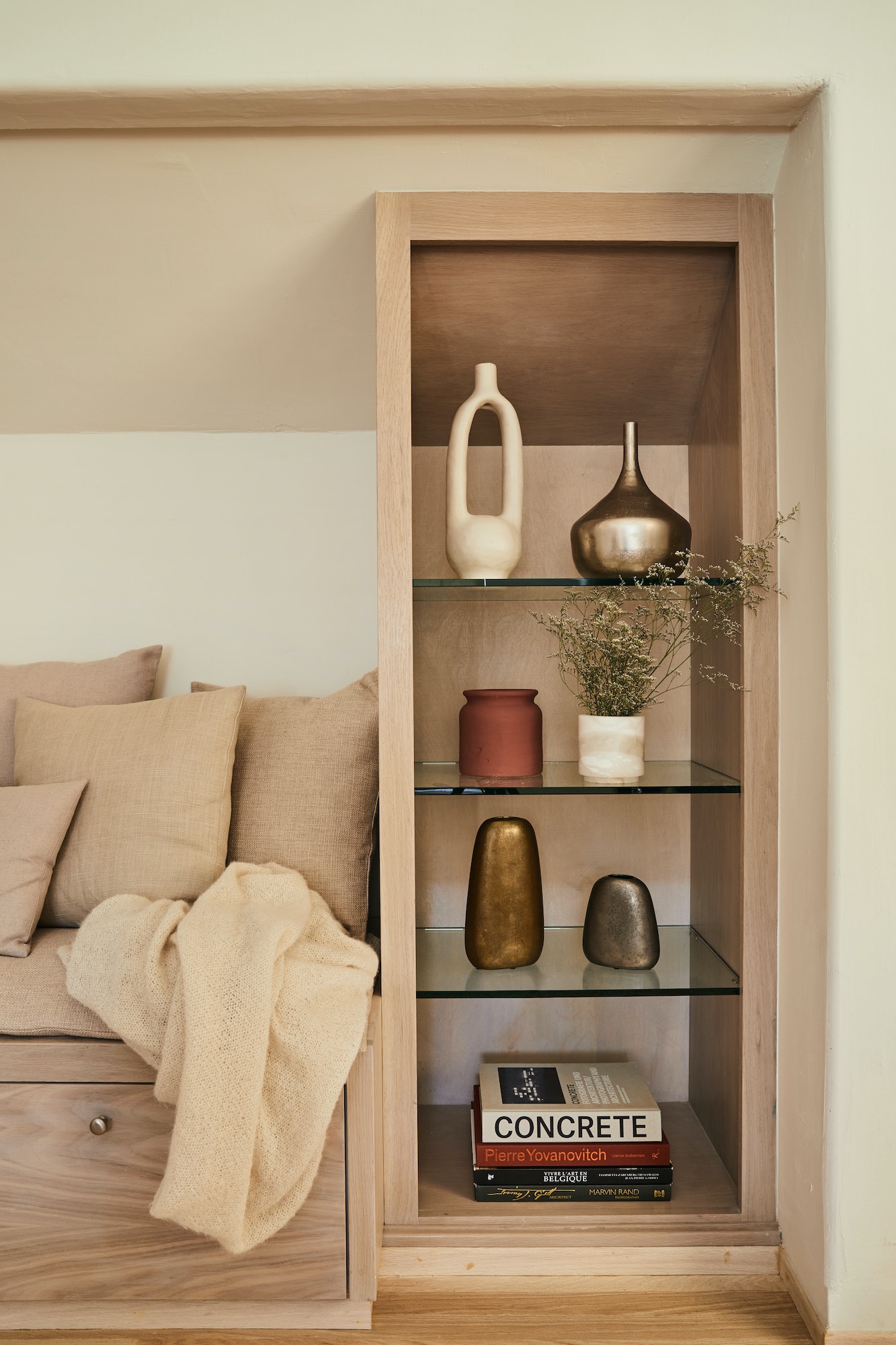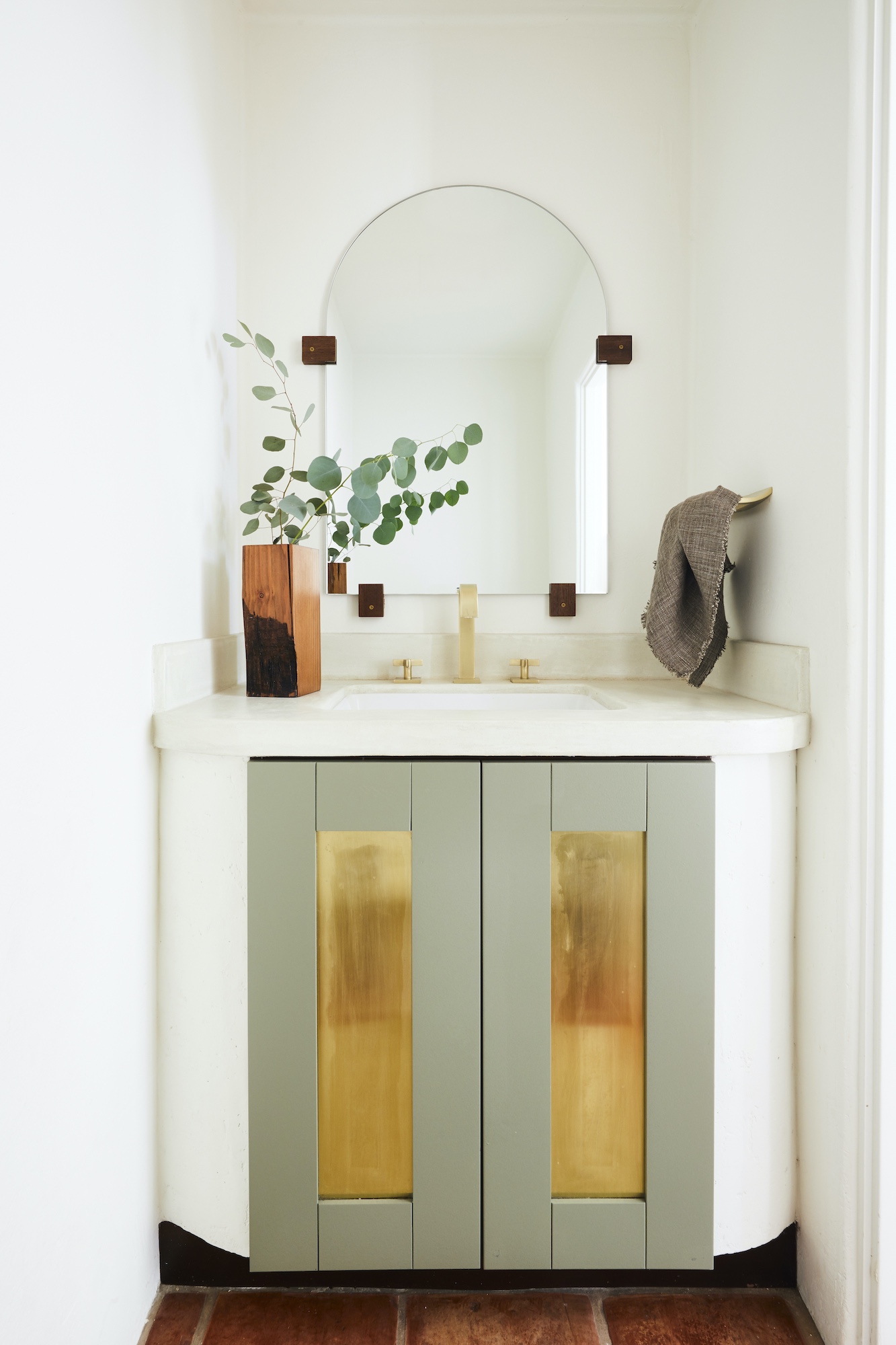 Jack:
It's such a personal thing, isn't it? It must be sort of getting to know them as people, as much as clients.
Corinne:
Yeah, definitely. And that's part of the process that I really love, and why it's so important to have these clients that come to me as referrals. It's great when they trust me to a certain extent right off the bat. I also need to be able to build their trust over the next six months to a couple of years that we work together. It really is a relationship that needs to be nurtured over time.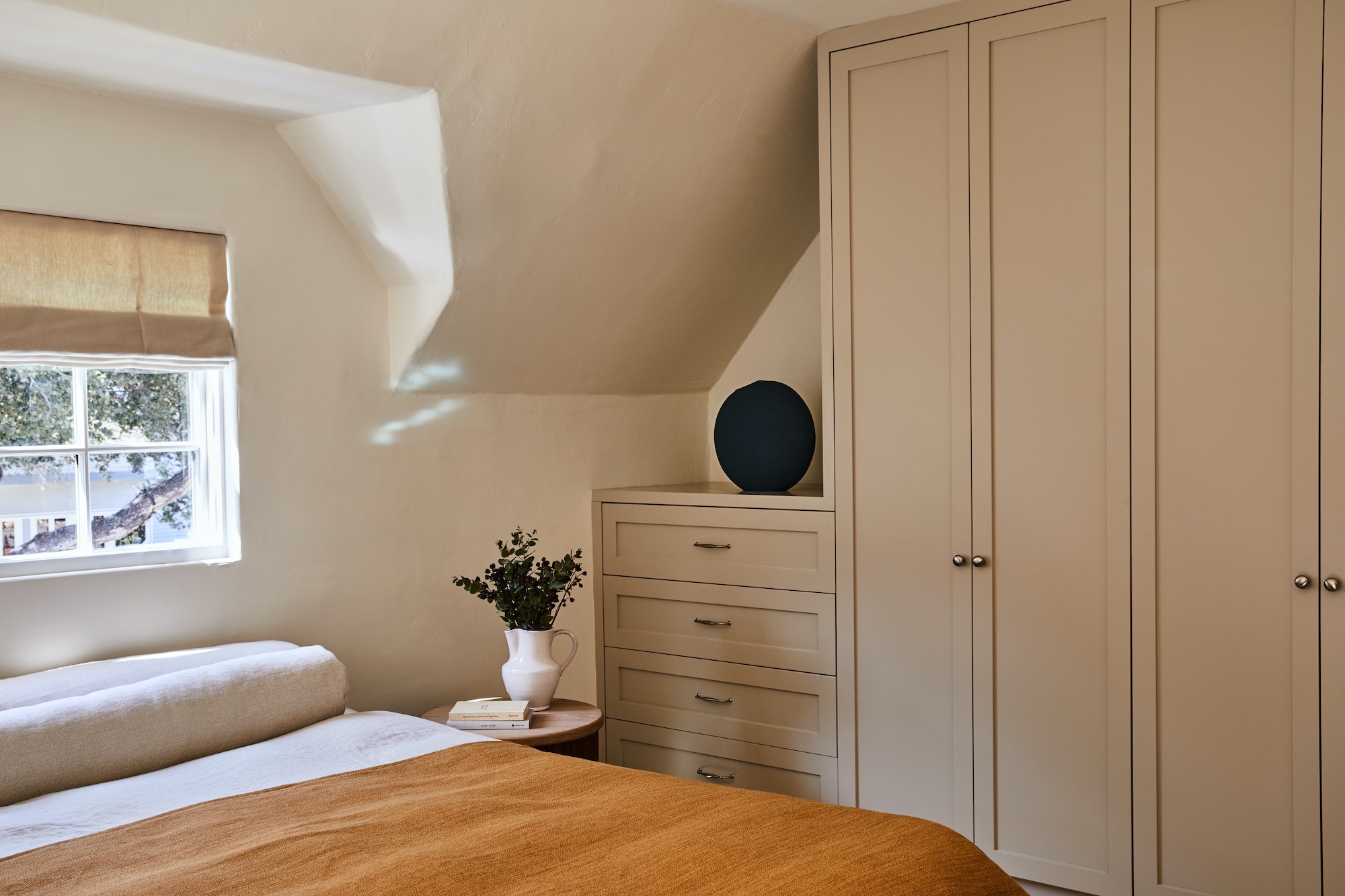 Jack:
What are your main design influences?
Corinne:
That's tough because there are so many designers that I really love. A lot of my references come from specific furniture or art pieces. I work with a lot of vintage in my projects for sustainability reasons, but also because they have that soul that I want to bring into projects.
I love Alvar Aalto, Lina Bo Bardi, Pierre Chareau, Axel Einar Hjorth, Gae Aulenti. I love Guillerme et Chambron; they're my ultimate favorites from the sixties. We place a lot of their furniture because it's so incredibly built and so solid and generally one material. Oftentimes, it's just oak, so it is very solid and sustainable.
In Santa Barbara, where I have an office, Lutah Maria Riggs is a big influence. She was one of the first female architects in Santa Barbara that did some incredible work here and paved the way for women like me. I love John Pawson's work. I'm definitely more of a minimalist at heart, but I also am a realist and I know that people need their creature comforts and they need the things that they love around them.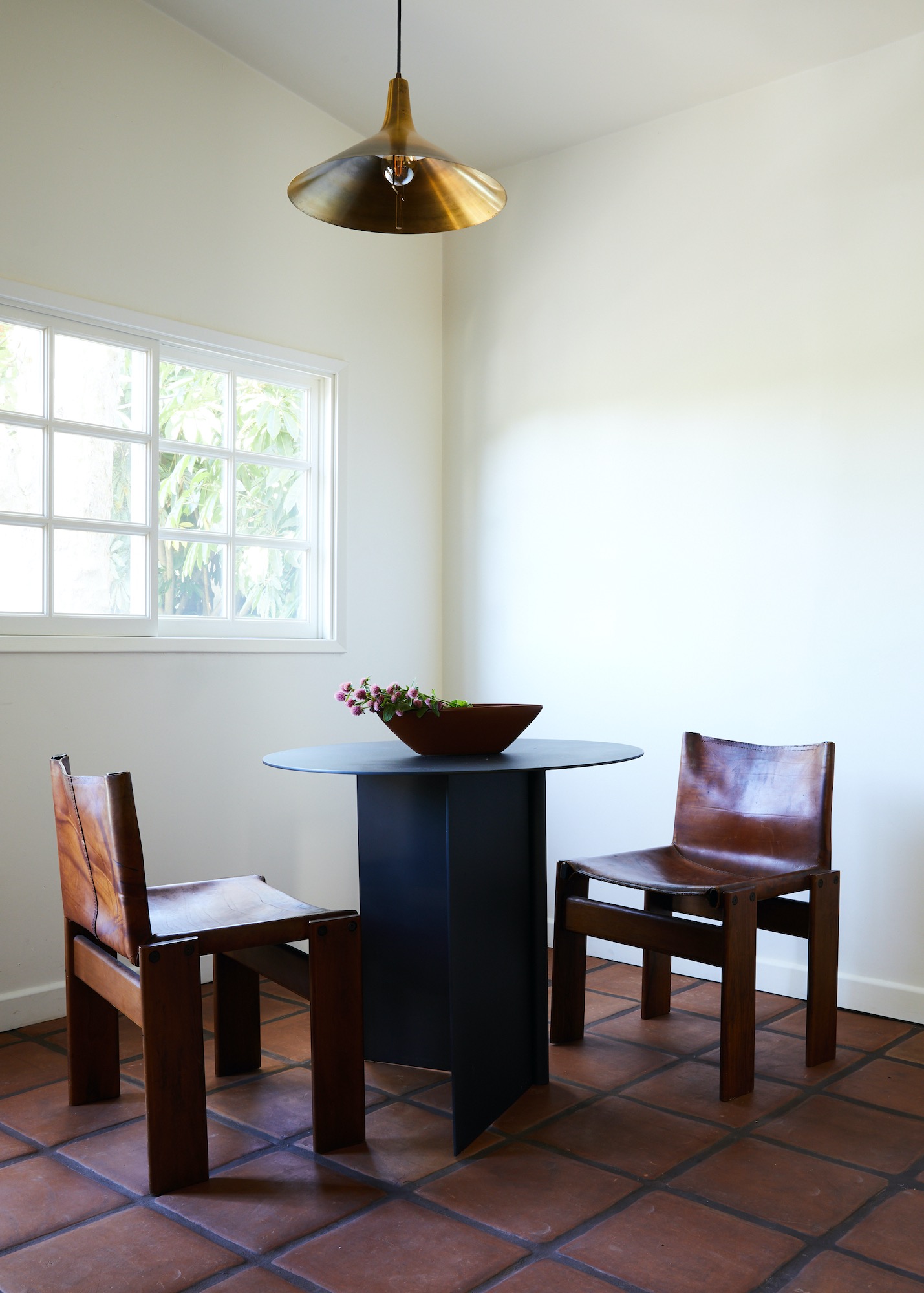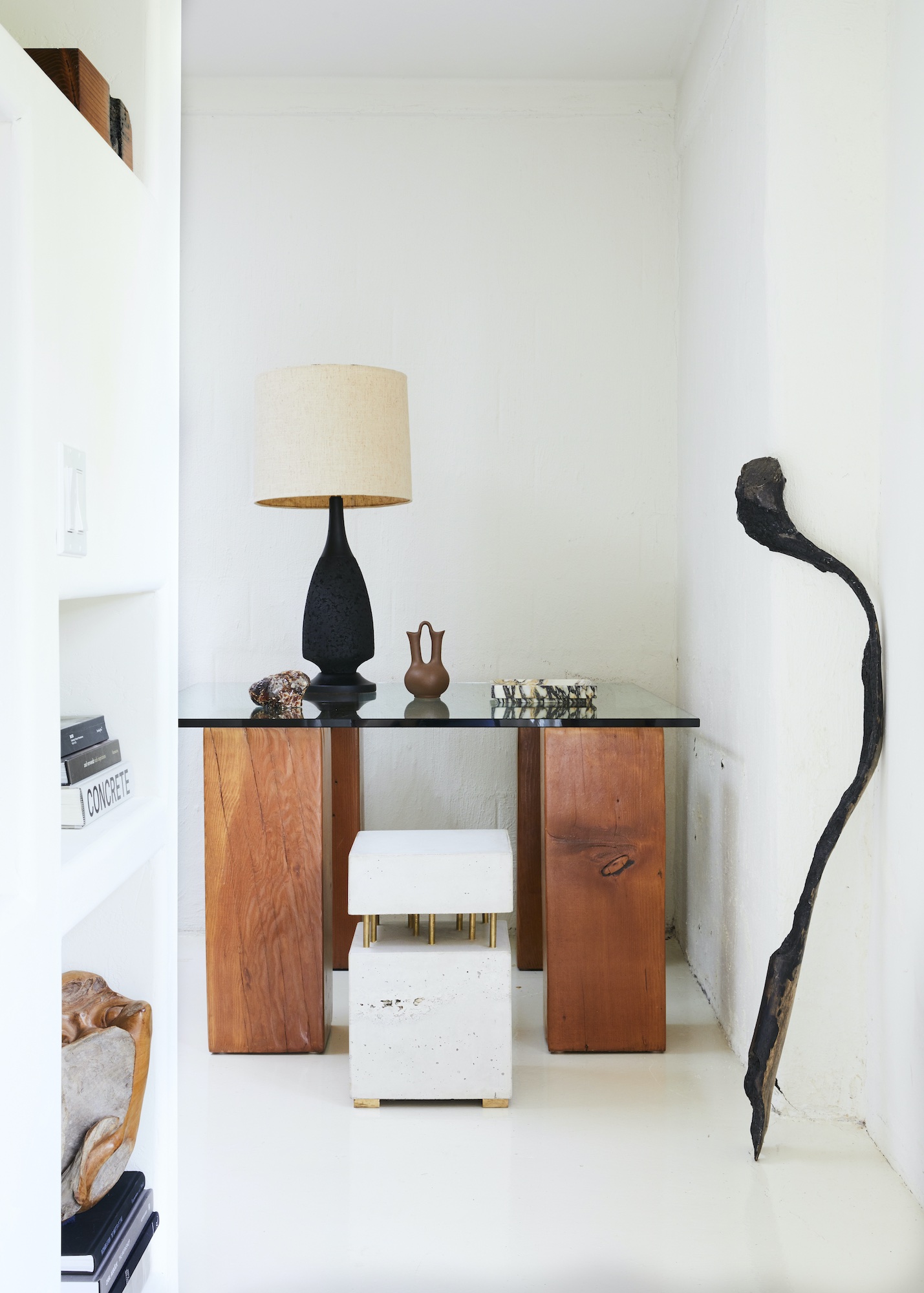 Jack:
You mentioned minimalism and I think that's an interesting one because I think there's definitely a minimal quality to your work, but I don't think it would be quite accurate to call it minimalism. How would you articulate what your aesthetic is like?
Corinne:
Yes, definitely. The way that I approach design is to focus on placing items that are meaningful to my clients. I want to place pieces that they love; that give them joy; that make them feel a certain way. My work has been called an organic sort of modernism and that's probably because we use a lot of natural materials; clay and lime wash and wood with natural stains. It has a handmade quality to it. We work with a lot of sculptors and artists in LA that have their hands on the work. So, everything has a soul to it and a simplicity.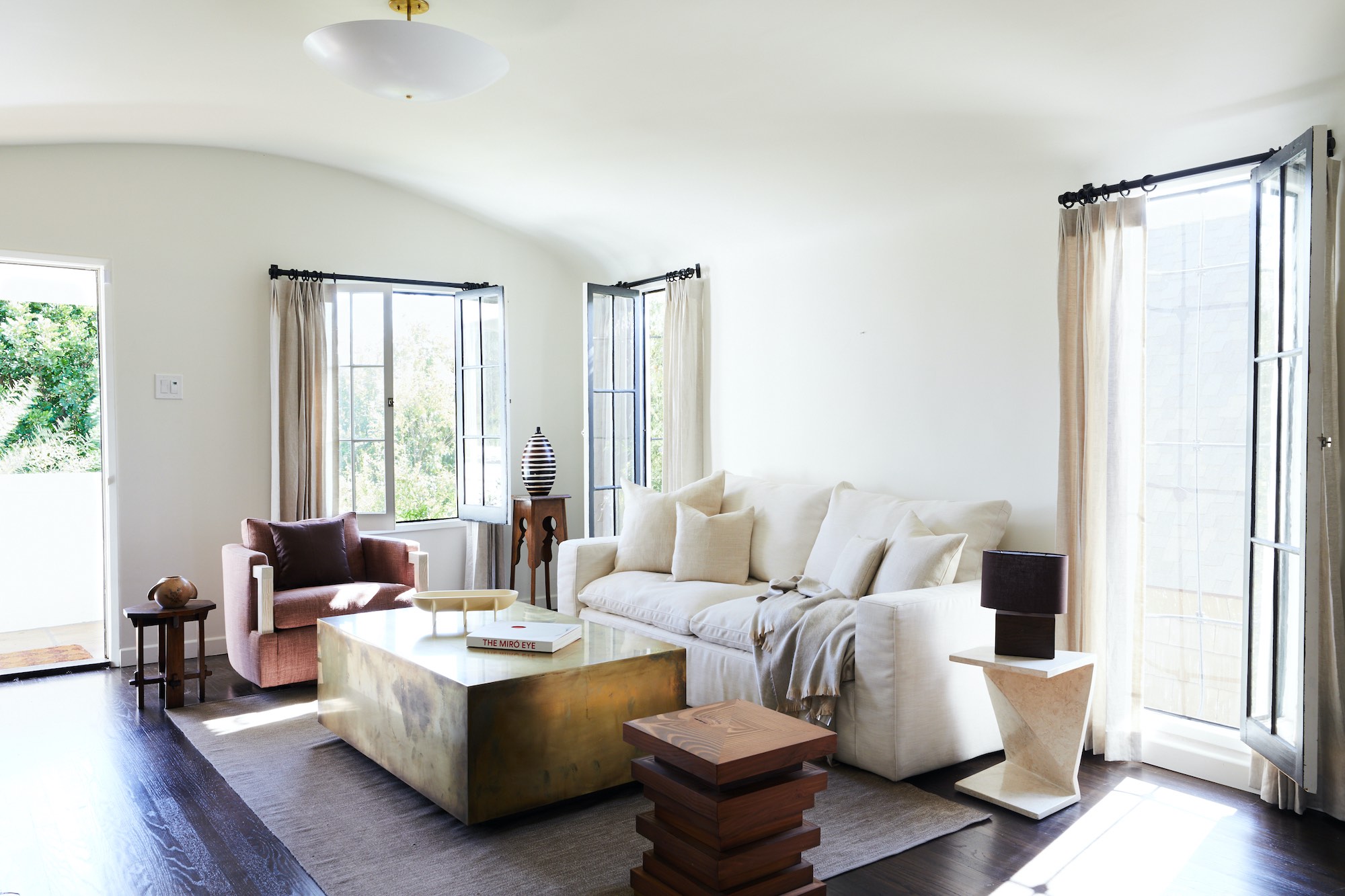 Jack:
I think often these things are hard to encapsulate and I think there is a sort of handmade quality to a lot of your work, which I think is part of its charm. It's a sort of, as you mentioned, sustainability and how materiality is important to you. I think that's a really lovely quality.
Corinne:
Thank You. Definitely. Again, whatever we put in the homes we work on, I like it to have somewhat of a history or a story. So these pieces make people feel a certain way and the pieces have a conversation around them. I'm attracted to modernism, but I wouldn't necessarily call myself a minimalist. That has this connotation that's too sterile for me… and I like art, objects, records, photos etcetera.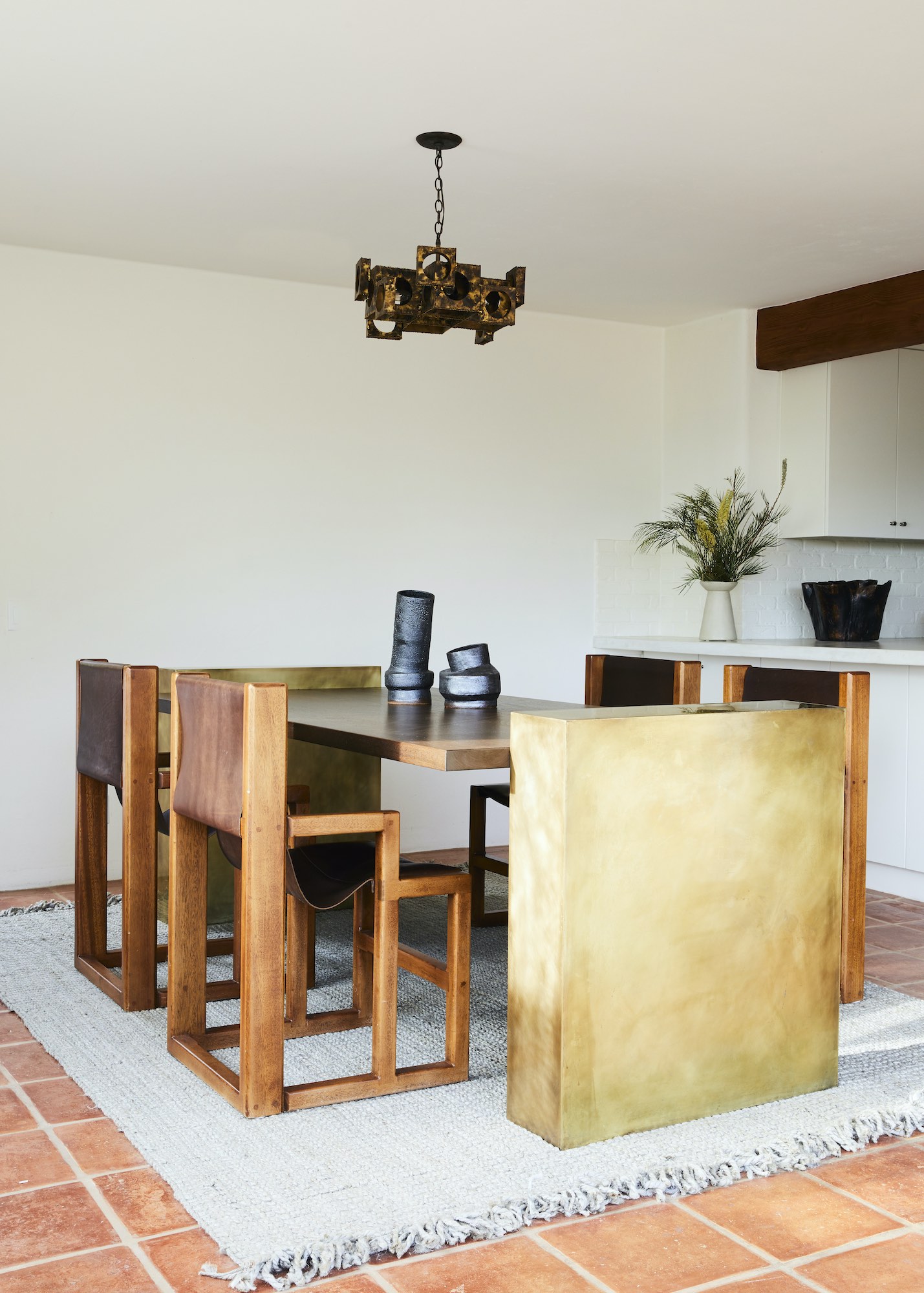 Jack:
Is there a favorite material you have to work with or does it really depend upon the project?
Corinne:
Definitely. We always gravitate towards natural and handmade materials. If we're in the construction phase, we'd gravitate towards handmade tiles; natural wood finishes. Unlacquered fixture finishes, whether it's brass or some sort of tarnished silver; anything that can continue to age beautifully as the owners move in. When they start touching and feeling and living in the space, it starts to live with them. Then as we get into the furnishing phase, we work with a lot of unfinished woods or wood with natural stain. We use a lot of linen for upholstery and drapery to give the home that last layer of texture that it needs. For rugs, we work with natural silks and wools and again, linens; cashmere if it's in the budget.
We do work with a lot of metal too. There's a little bit of an attraction to an industrial look for me, a sort of brutalist architecture and design where it's just one monolithic piece. A lot of our metal pieces we design are sort of monolithic column cabinets or tables with tarnished silver, rectangular block legs and that sort of thing. I think one of the reasons my work sometimes feels a little bit more minimalistic is because we don't work with too many decorative finishes and we work with a lot of simple shapes for furniture.
Generally, when we design furniture, it's one to three materials. It's either all wood, a combination of wood and metal or a combination of upholstery, wood and leather or something. So that might lend to a more minimalistic look.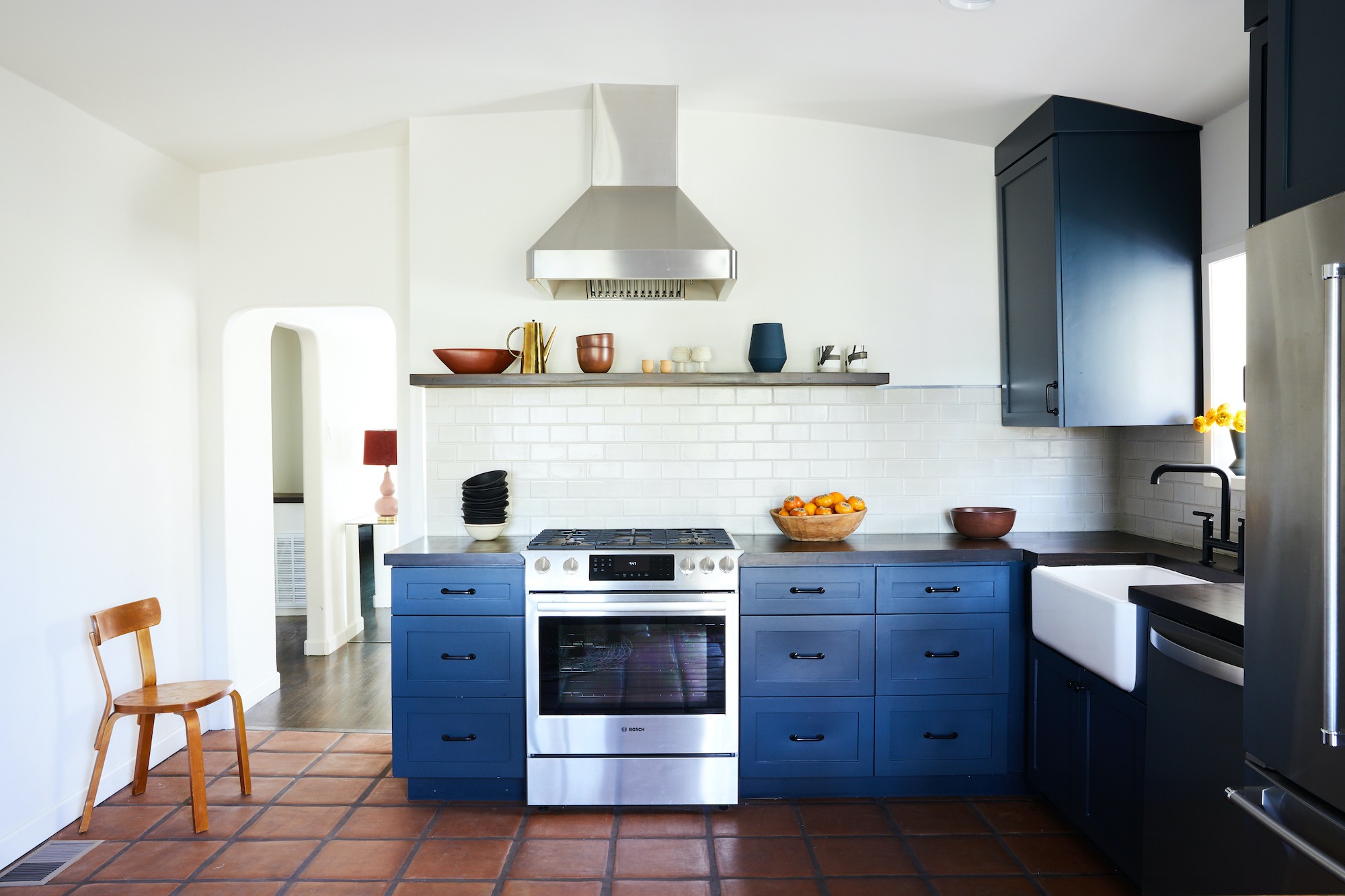 Jack:
Do you think your time in fashion using textiles brought a different dimension to your interior design?
Corinne:
Absolutely. I learned so much about the human form and what feels comfortable on somebody's body. Upholstering a sofa or chair is very much the same as dressing a human form to me. You need fabric that isn't too high maintenance; easy to clean; feels really good on the body if you sit on it.
When I get to the place where I've chosen all the hard materials, the flooring and the tiles and the construction phase is complete, that's when I get to start to sift through all the linens and silks and cashmeres and focus on the soft goods. I realized that that is definitely the place where I start to feel that next surge of creative force, which feels really good. It's like fabric is kind of home to me.
Jack:
I think you definitely notice the minimal, almost monolithic quality of some of your furniture is definitely a template for the use of fabric and texture and textile. I think that's really interesting.
Corinne:
That's really nice insight because oftentimes, I'm so deep into my work I don't recognize why I do certain things, but that feels really right; that we use a lot of monolithic, more brutalist forms, and then I can bring in these softer textures. It's the juxtaposition of those different forms within materials that keep the balance of softness.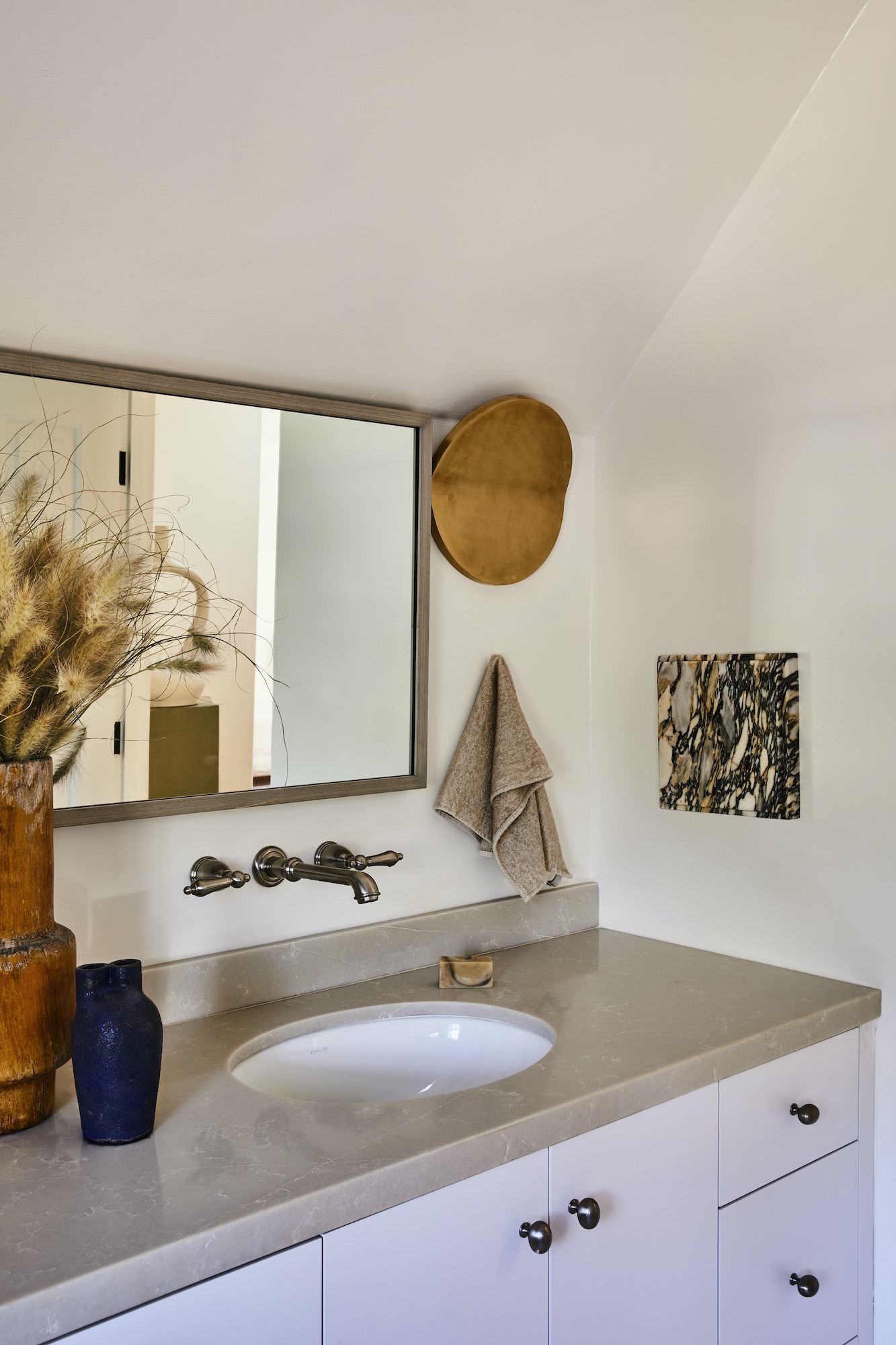 Jack:
I think it's a really interesting approach. To me it's much more a form of interior architecture rather than interior decoration. Because as you say, you don't really use interior decoration in the traditional way. It's more about creating an interior space, which is quite architectural. And yet, what architects are usually quite bad at is tempering that hard edge of architecture with a lighter touch to make it more friendly to the human form.
Corinne:
Yes. I'm attracted to the idea that I can design spaces like that and actually have people live in those spaces. I like finding ways to bring in "more" that doesn't feel like "more".