How lucking into a 1938 R.M. Schindler house has transformed designer Brendan Ravenhill
Interview by Andrew Romano
Photography by Laure Joliet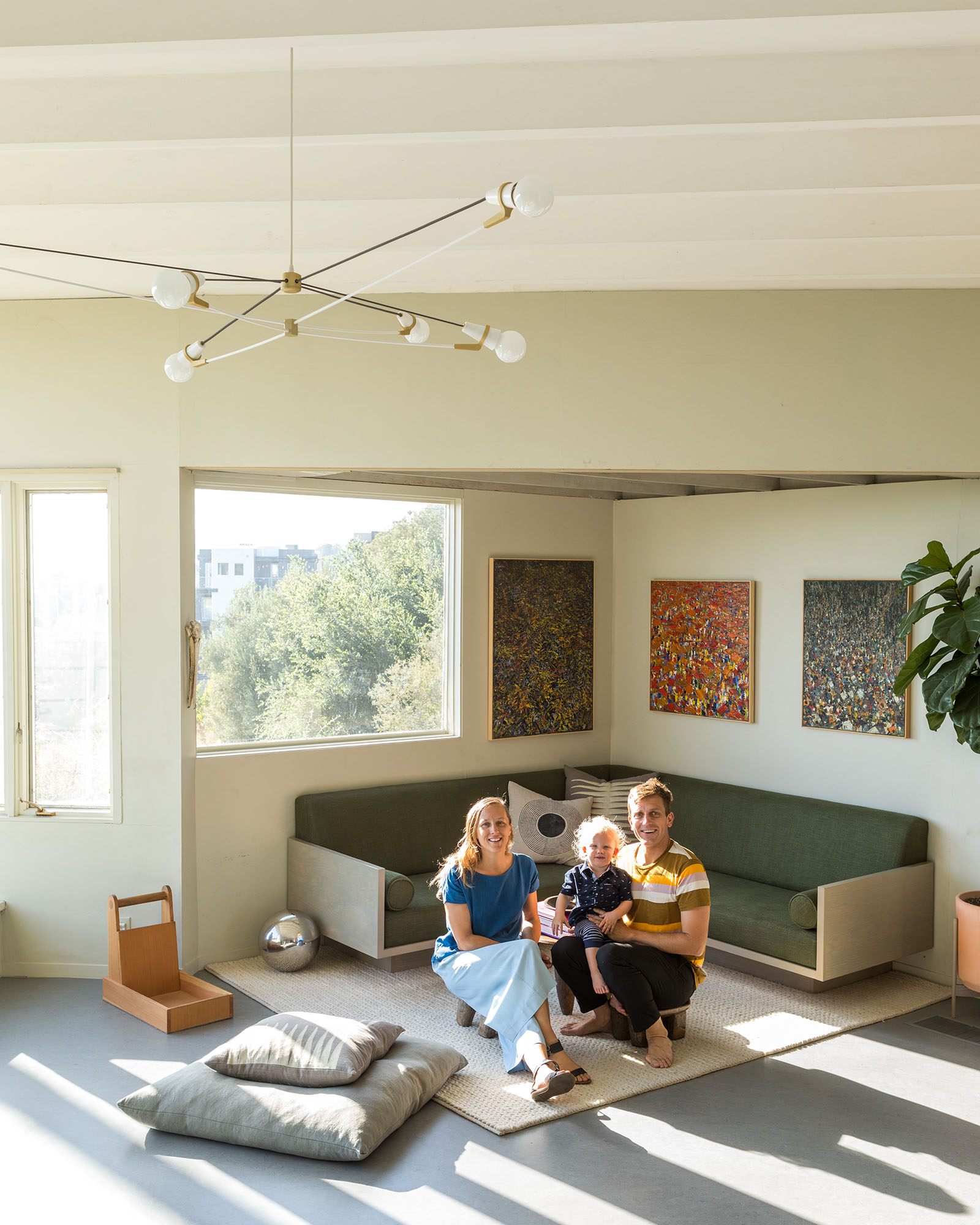 Acclaimed Los Angeles lighting and furniture designer Brendan Ravenhill loved the work of pioneering modernist architect R.M. Schindler long before he moved to the city. But when a few strokes of impossibly good luck found him occupying, then restoring, a Schindler of his own — the pivotal, plywood-clad Southall House and Studio in the hills of Echo Park — his understanding of Schindler's designs, and of design itself, grew by leaps and bounds.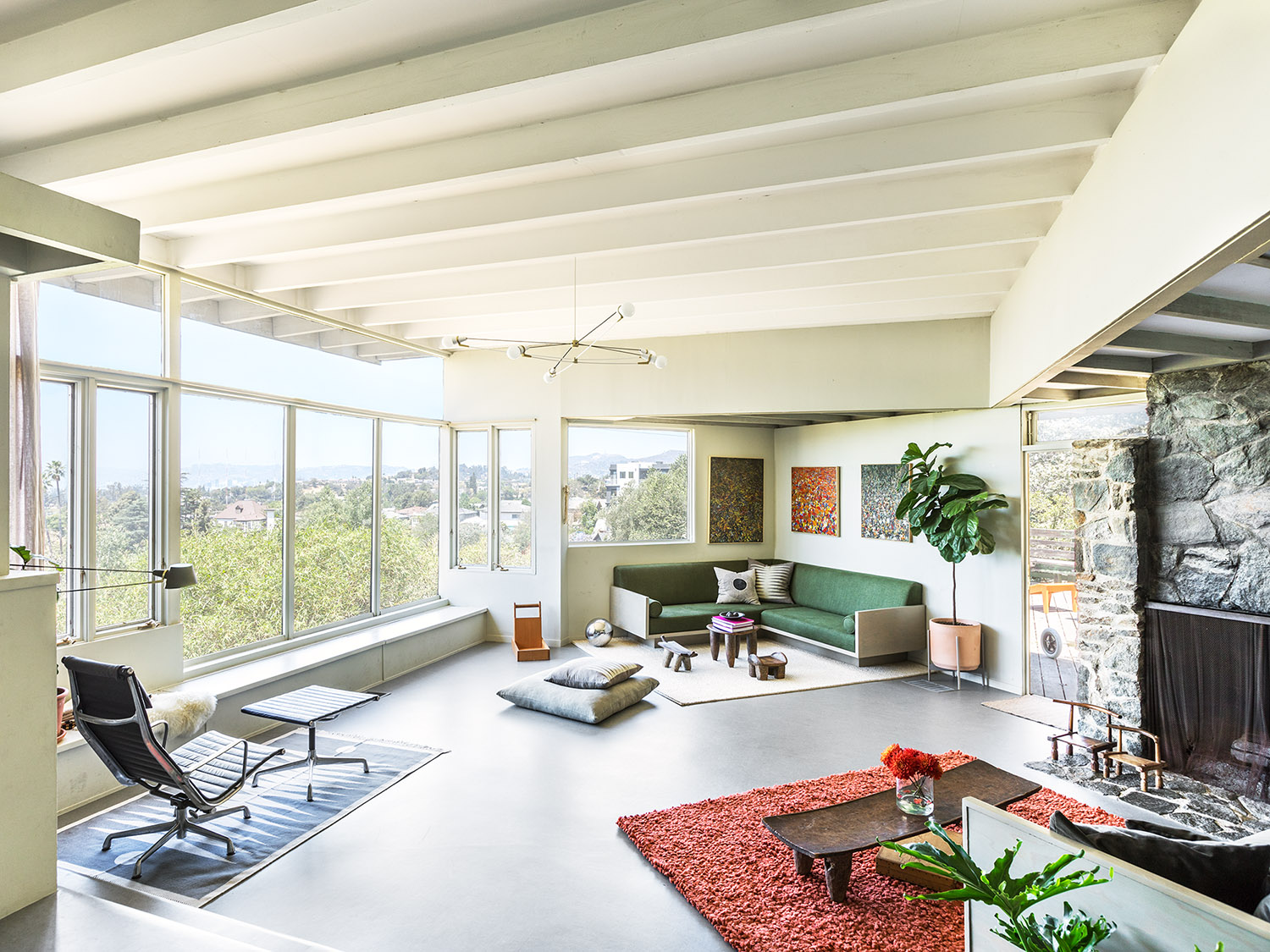 How did you find your remarkable home?
My sister-in-law's boyfriend had an Airstream trailer that he was looking to park somewhere, and he stumbled upon this seemingly empty lot around the corner from us in Echo Park. So he wrote to the owner. She turned out to be very welcoming to the idea; she had just lost her husband and wasn't really able to look after the property. So she said, "That'd be perfect. Park your Airstream on the upper lot, and if you need to tap into the house for water or electricity, feel free.' And he was like, "There's a house on the property?" And she said, "Yeah, there's a 1938 Schindler toward the bottom of the hill. You can't really see it from the street."
Eventually, the owner approached us about buying the house. She very much wanted to make sure that someone would not just flip it or tear it down. Our first response was, "We could probably never afford it. But sure!" And long story short, we were able to rent-to-own for four years with very little money down. That's the magic of how we ended up here: a handshake deal.
What was your first impression of this hidden Schindler?
While I was in graduate school, a dear friend was always saying that her favorite place in all of LA was Schindler's own house on Kings Road. So I read every single Schindler book I could find. He was just so easy to fall in love with — the forgotten modernist in Richard Neutra's shadow.
When we moved out here, our first few months were centered around Schindler: events at the MAK Center and all these other Schindler houses that we just stumbled upon. Experiencing his architecture for the first time was a revelation. Then to somehow stumble across a Schindler of our own, it seemed so fortuitous. Like it was destined to be — even if, for many years, it seemed like this dream that might nearly slip away.
What kind of shape was the house in?
One of the bathrooms was falling apart. There was nothing but subfloor in the living room. The kitchen was covered in old white tile. Rats were in the roof. It needed love. But it was also a Schindler. The bones were there, as were a lot of the original finishes. The texture was intact.
There are a million different approaches to restoration. What was yours?
The first thing we did before we moved in was to strip the house down to just the architecture. And then we painted. With our tiny budget, that went a long way. We tried to honor Schindler's original green.
After that we really just lived with it. Eventually we did a bathroom. Then we restored the floors back to the original linoleum. Then we finally got around to redoing the kitchen.
Throughout, I've been the general contractor — working with various craftsmen, as time and money permits, but really just doing the design myself.
I could have gone crazy — like, every finish has to be the original finish. There's a certain beauty to that system. But I always felt like I kind of had to honor the house while also making it our own — acting as the interpreter, so to speak.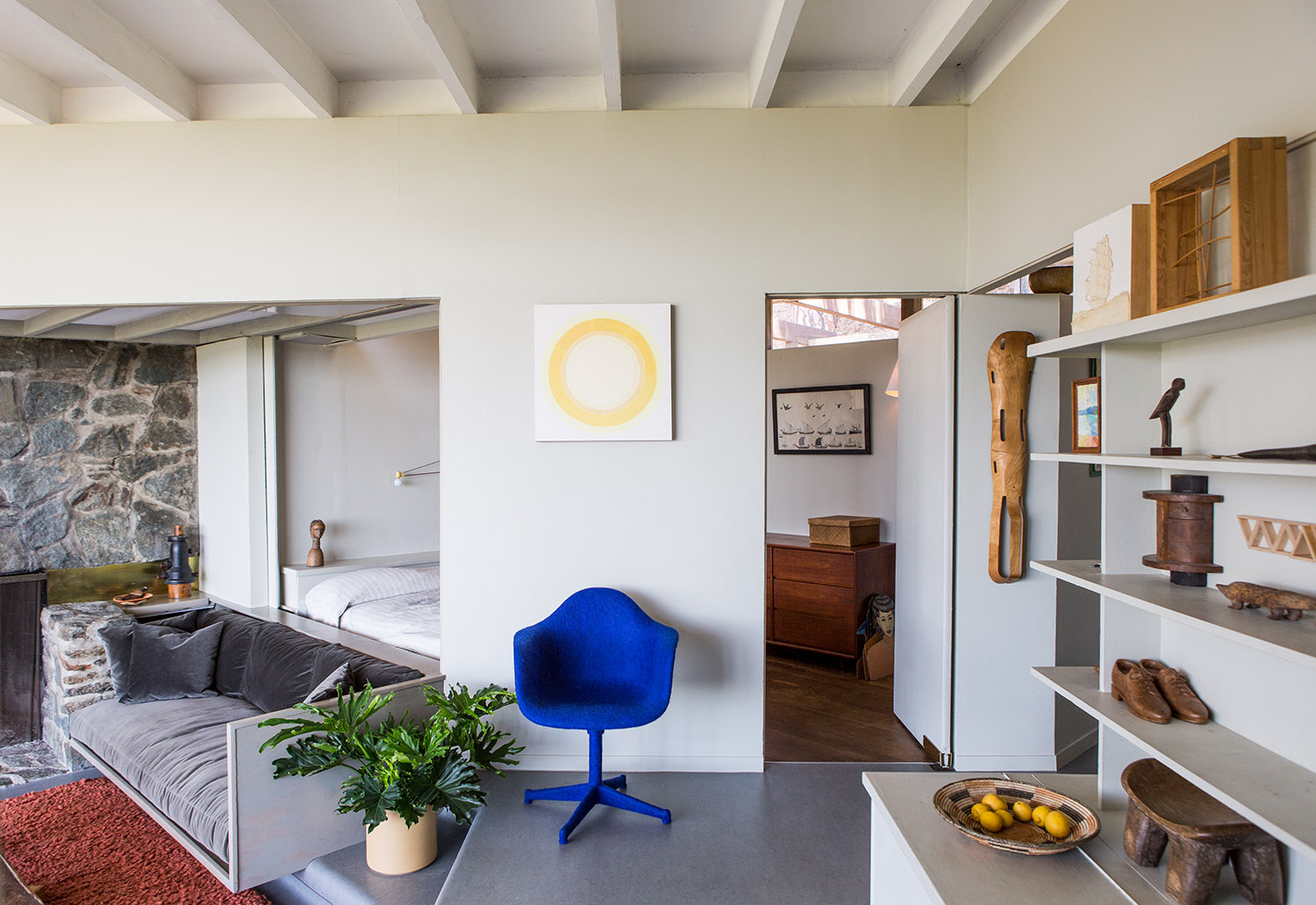 The big takeaway for me about Schindler's architecture is that he got extraordinary effects and details out of pretty mundane materials
Brendan Ravenhill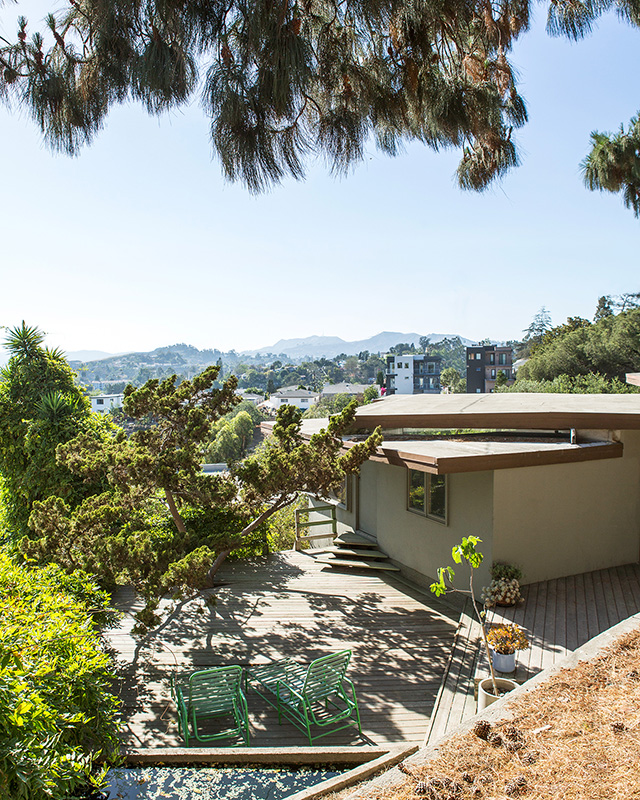 How has your understanding of the space, and of Schindler as a designer, evolved during your time here?
The big takeaway for me about Schindler's architecture is that he got extraordinary effects and details out of pretty mundane materials — and the way he managed to do that was by really and truly understanding construction and being deeply involved in it.
We have these letters from Ms. Southall: "The foreman's saying you're spending more time on the job than he is — that you're practically building the house."
Schindler's budgets were so small, the only other thing he could leverage was his time. And I see that more and more in the house — how this person had such an incredible spatial mind and just knew how to build stuff.
Has living here changed you as a designer?
It's humbled me, honestly. I've definitely used some of Schindler's details in our studio space. Like clerestories; I fully believe that every room should have a light source that's as natural as possible, so you don't even have to flip a switch. Those moments make all the difference. But beyond that, it's just the modernist thing. The structure itself can be all the ornamentation one needs.